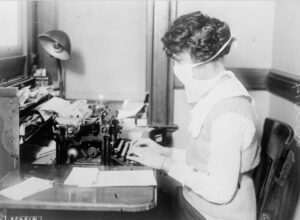 In this time of COVID-19, I have the 1918 Flu Pandemic on my mind. How did it affect my ancestors?
First, I looked at death dates for my direct ancestors and found two candidates.
John Middendorp died January 1918 in WI. While I don't have a death certificate for him yet, WI didn't report any flu cases until the fall, so he probably died from something else.
Antoine LeBlanc died on February 18, 1919 in Oswego NY. I don't have a death certificate for him yet either, but we do have an obituary courtesy of cousin Monte. It says he died of a long illness. I am betting that wasn't the flu, but we don't know for sure.
Relatedly, here is a nice post from someone whose father was in the Army suffering from the flu and had two ancestors die in TN.
Even though I don't have any direct evidence of how the 1918 flu affected my ancestors, it surely did change their lives. At the time, there were closures and lots of people wearing masks. It is interesting to see the pictures we have from that time and learn about what it was like . . . .