This has been a long time coming! These Atchisons were rather messy and some of the information was from way back at the beginning when I didn't know what I was doing & didn't keep track very well. Here is what I have pieced together so far . . .
There were several more spouses (see down below in The Basic Facts section), but for now, let's focus on these 3 families!:
John & Lydia had these children:
Buel Goodsell ATCHISON
Orett ATCHISON
Zebedee ATCHISON
George ATCHISON
Milton ATCHISON
Buel & Almira had these children:
Ephner (Efner M) ATCHISON
Nellie P ATCHISON
Efner & May had these children:
Claire (Clara) ATCHISON
Glen ATCHISON
Milton ATCHISON

Atchison Timeline
1 May 1786 – Lydia Packard born (cousin Linda)
1787 – John born North Adams MA (cousin Linda, family Bible)
22 Jan 1807 – John and Lydia married Jericho VT (register)
25 Sep 1813 – John enlisted, served 1 month 23 days (Roster War of 1812-14)
14 Jun 1817 – Buel born VT (family Bible)
12 Sep 1832 – Almira born Franklinville NY (family Bible)
5 Aug 1840 – Lydia died buried Underhill VT (cousin Linda)
9 Mar 1843 – Buel married Philena Jericho Chittendon VT (register)
1850 – John with Lucy and John jr Chittendon Co VT (census)
1850 – Buel with Philena and Mary and Lucien living with brother George's family Underhill Chittendon Co VT (census)
31 Jan 1855 – John died buried Underhill VT (Veterans buried in Underhill)
1858 – Buel got 80 acres in WI (index)
1860 – Buel 43, Philena, 38, Mary 15 and Alsam-maybe a cousin? Little Falls Monroe WI (census)
Dec 1863 – Philena died Little Falls WI (family Bible)
31 Jan 1865 – Buel married Almira Little Falls WI (certificate)
14 Mar 1866 – Nellie born Little Falls WI (family Bible)
4 May 1868 or 67 – Efner born Little Falls Monroe WI (family Bible, census)
1870 – Buel 53 VT, Almira 37 NY, Nellie 4 WI, Efner 2 and Nellie Hotchkis Little Falls Monroe WI (census)
25 Dec 1875 – May born Beaver Dam, WI (obit, MN Death Index)
1877 – Buel & HH next door in business in Little Falls WI (Monroe Co WI Pictorial History 1976)
1880 – Buel 63, Almira 47, Nellie 14, Efner 12 Little Falls Monroe WI (census)
13 June 1886 – Almira died Little Falls WI (family Bible)
4 Mar 1891 – Ruben & Nellie married Spart WI (family Bible)
1895 – Buel is with Nellie Kilts & husband & Susan Hecyes is head of household? [hard to make out] Todd Co MN (census)
6 May 1896 – Buel died Todd Co MN (family Bible)
27 Oct 1897 – Efner and May married Thomastown, Todd MN (family Bible)
2 Sep 1898 – Clara born to Mary and EM in Todd Co MN (certificate)
4 Mar 1891 – Reuben Kilts married Nellie Atchison Sparta Monroe WI (certificate)
1900 – Efner 33 born 1867 WI, May 24 born 1875 WI, Clare 1 born 1898 MN Todd Co MN (census)
1905 – Efner 37 WI, Mary 28 WI, Claire 7 MN, Glenn 5 MN Todd Co MN (census)
19 Feb 1908 – Milton was born (death index)
28 Oct 1909 – Efner died Wadena MN or Staples (family Bible) – the family story is he worked for the RR & died in a hotel fire
1910 – Mary 34, Claire 12, Glen 10, Milton 2 Todd Co MN and brother Edward Williams. It says she was divorced!? (census)
1910 – Ruben & Nellie – he is a well driller Staples Todd Co MN (census)
1916 – Mary 39, Claire 17, Glen 15, Milton 8 Sasman Saskatchewan! Came from USA in 1913. Methodist. (census)
1919 – Pete and Claire married Hendricks MN (Fran & Margaret)
1920 – Pete 24 MN, Claire 21 MN Deuel Co SD (census)
1920 – Ruben & Nellie – he is a well driller Staples Todd Co MN (census)
1930 – Ruben & Nellie – he is a well driller Staples Todd Co MN (census)
5 Nov 1939 – Ruben died Staples MN (family Bible)
29 Nov 1942 – Nellie died Staples MN (family Bible)
30 Aug 1951 – Claire died Ramsey Co MN buried Staples (certificate)
15 Dec 1971 – May died Todd Co MN (MN Death index) May was one of Staples oldest residents when she died. (obit)
17 Aug 1990 – Milton died Minneapolis MN (MN Death index)
Notes & Questions
1) Big mystery for Efner's death! I have not been able to find a death record & in the 1910 census record, it says May is divorced when I thought he was supposed to be dead. I wonder if he just left? Does anyone have the answer to this mystery?
2) And what were they doing in Canada!? And they were there for several years – at least from 1913-1916. In Saskatchewan! Was there someone else there to help May with the 3 children? I have heard that Ruben & Nellie Kilts helped care for the kids (Claire, Glen & Milton) when they lived near each other.
3) Who was Alsam in 1860?
4) Who was Susan in 1895?
5) There is a brief mention that Philena married Buel Atchinson, had one child, Mary, and moved to Wisconsin. (They had another but he died young.) And also that John Atchinson took the Freemen Oath in 1808. That is in the History of Jericho VT from 1916. It is available online (just a text file version or pdf version that stops after page 319)
6) Thanks to cousin Linda for her enthusiasm & generosity!
P.S. A note about the spelling – Atchison v. Atchinson . . .
I did a quick survey of the official records I have and we seem to have lost the 'n' during Buel's watch.
He waffled during this time period:
1860 – did not have the n
1865 – did not have the n
1870 – had the n
1880 – did not have the n
1891 – had the n
Before this, we consistently had the n and after this we consistently did not have the n.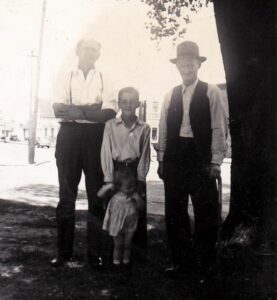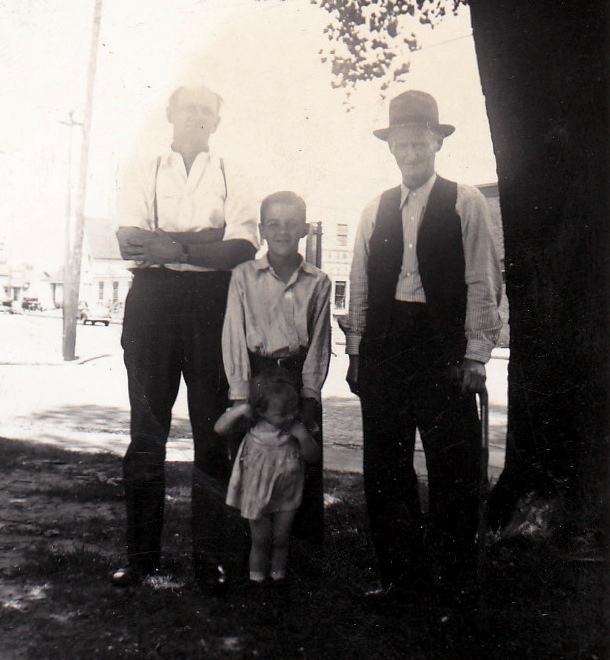 The Basic Facts:
John ATCHISON (also married Lucy Story & Rosina Wells)
b. 1787, North Adams, Berkshire, MA
d. 31 Jan 1855, Underhill, Chittendon, VT
& Lydia PACKARD
b. 1 May 1786, VT
d. 5 Aug 1840
m. 22 Jan 1807, Jericho, Windsor or Chittendon, VT
Buel Goodsell ATCHISON (also married Philena Whitten)
b. 14 Jun 1817, Underhill, Chittendon, VT
d. 6 May 1896, Staples, Todd, MN
& Almira S McNALL (also married Benjamin Hotchkip)
b. 12 Sep 1832, Franklinville, Cattaraugus, NY
d. 13 Jun 1886, Little Falls, Monroe, WI
m. 31 Jan 1865, Cataract or Little Falls, Monroe, WI
Ephner (Efner M) ATCHISON
b. 4 May 1868, Little Falls, Polk, WI
d. 28 Oct 1909, Wadena, Wadena, MN
& May (Atchie) (Mary E) WILLIAMS
b. 25 Dec 1875, Beaver Dam, Dodge, WI
d. 15 Dec 1971, Staples, Todd, MN (Mary Rondorf home)
m. 27 Oct 1897, Staples, Todd, MN

You might also be interested in: