Here is a neat old photograph from October 1941, probably in Comstock or Turtle Lake, Wisconsin. These were my grandmother's cousins, but she is not in the picture. Her son was just a few months old at the time, so she likely was home caring for him.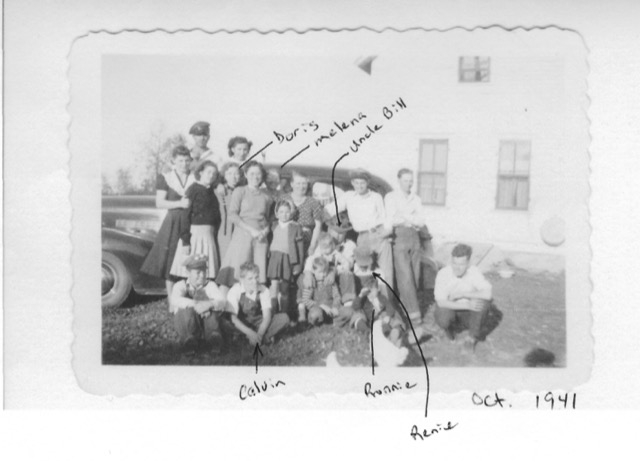 We can identify a few people for sure. Renie and Melena and their two youngest Doris and Calvin. They were living in Comstock at the time. We think we see William and Emily LaBlanc and their littlest son Ronnie, who were living in Turtle Lake.
I went to the 1940 census to see where the cousins were living and how old they were at the time. Likely most if not all of William and Emily's family are in the picture, but we aren't sure exactly who is who. In 1941, they would have been these ages:
Byron, 19
Alice, 17
John, 16
Laurance, 15
Ervin, 12
Francis, 5
Who are the rest of the people? It is possible the Kuschner's came from Duluth and are in the picture. Edward was 32 in 1941, Dorothy was 26, Lois was 6 and Lloyd was 4. I don't think Aime and Rose Desmedt are in the picture, but maybe their daughter Muriel came with the Kuschners? What is the chance that the Temtes or the Moscrops came from Los Angeles?
I imagine war was on their minds. Paris had fallen to the Nazis the previous year and then the Nazis bombed England for months. The attack on Pearl Harbor would happen in December and the US would join WWII. Two of these cousins would lose their lives in the war:
Robert Temte registered for the draft the same month as this picture, on 27 Oct 1941. He died just a few months later, 27 Mar 1942 aboard the Atik, torpedoed by a U-boat off the coast of North Carolina.
Byron LaBlanc was reported MIA 9 August 1944 when the B-24 he was serving on disappeared on a combat mine-laying mission over the South China Sea.
Lastly, I finally tried MyHeritage In Color™ on this picture. It does bring an old photograph to life!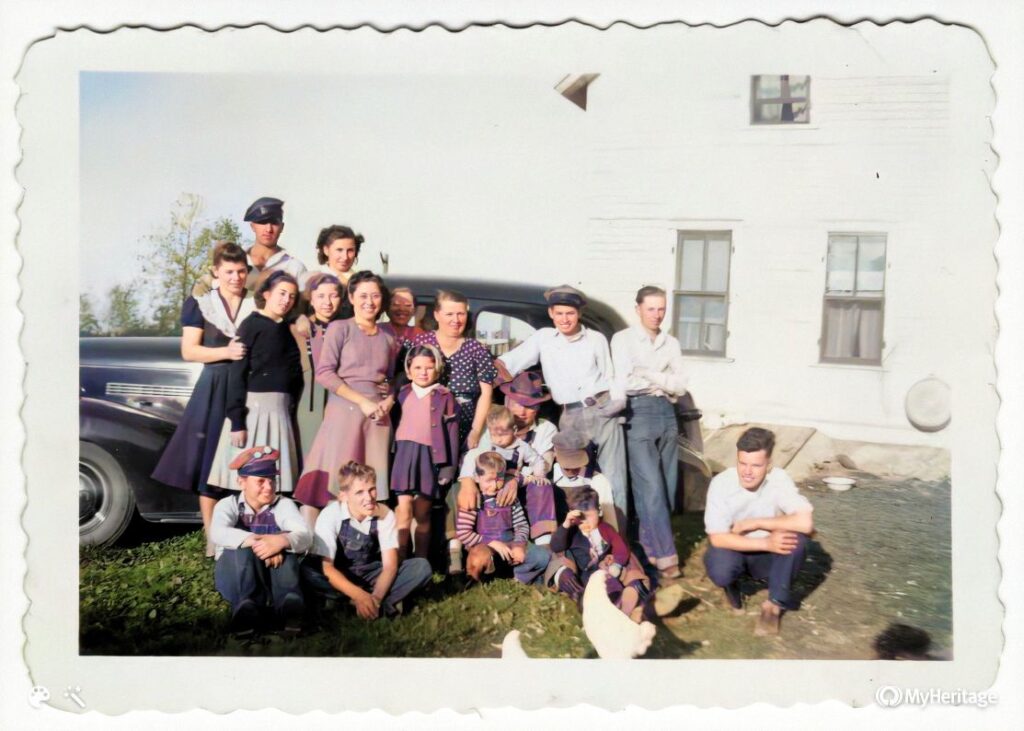 Resources