Tracking down Peter Leclair has been a big challenge (and the whole reason I started on this 20-year-long genealogical journey, by the way.) My grandma told me that her great-grandfather, Peter LeClair, was a fur trapper born in Canada and that he had married an Indian maiden. I wanted to find out if it was true. (Still don't quite have an answer on that, so stay tuned here to learn what we discover.)

The other information I had to go on was that he was living in Wisconsin when he died and that he was survived by two daughters, Rose and Angeline. There was also a story that his body may have been shipped to Faribault, MN for burial, but no one knew why.

I had found several census records for Peter's later years in WI. And one in Quebec in 1851, but I wasn't sure if it was our Peter because they had all these girls that didn't match with what I knew about his daughters. And where he was in the years in between was a mystery to me.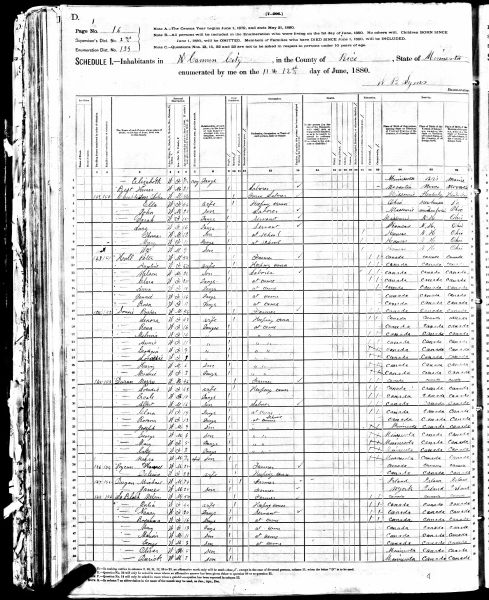 For today, let's look at some crazy variations in census records. We had several problems with Peter:
There are a lot of variations on his name: English and French versions, lots of spelling variations and imagine my surprise when I discovered that LeClair was a "dit name" – sometimes he went back to using Houle! (And Houde was used by his ancestors as well, but more on that another day.)
We didn't know where to look. Where was he between 1851 and 1895?
His ages vary a lot (What a nightmare!):

between 1870 and 1875 he only aged 1 year
between 1875 and 1880 he aged 9 years
between 1880 and 1885 he aged 11 years
between 1885 and 1900 he aged 19 years
between 1900 and 1905 he aged only 2 years
between 1905 and 1910 he aged 8 years
between 1870 and 1910, he had aged 50 years (in only 40 years, folks).
Most of the markers that are normally used to recognize a person (name, age, place) were unreliable. And there was inconsistency with his spouse and children as well. Yikes.

Then along comes my clever and persistent mother. She is not messing around people! She first made a list of the years of all possible census records (Canada, US and states) and then she started going after them. She also dug into those kids and determined that this was the right family. She found various marriage records and obituaries of the girls saying that Peter LeClair and Angeline Parenteau were their parents.

So now she could use that to identify the family – if there was some form of several of the right names together, it was our family: Peter and Angeline with their children Mary, Nelson, Julie, Clarisse, Angeline, Eugenia, Marie Rosalie and Rosalie.

And she was perfectly willing to use the neighbor trick or even find a likely place and go through the census page by page since we couldn't be sure of what name would turn up in the indexing. And she found the family in Faribault in 1870 and nearby Cannon City from 1875 to 1885! Good work! And this meshes well with another story – she remembers being told that her grandmother used to go stay with relatives in Faribault. Hooray!

Here is a summary – look at those name variations!:
| Year | Census | Name in Ancestry | Age | Living In |
| --- | --- | --- | --- | --- |
| 1851 | Canada | Pierre Leclere | 24 | Sherbrooke, Quebec |
| 1861 | NA | NA | NA | NA |
| 1870 | US | Peter Aclair | 44 | Faribault, MN |
| 1875 | MN | Peter LeClair | 45 | Cannon City, MN |
| 1880 | US | Peter Hall | 54 | Cannon City, MN |
| 1885 | MN | Peter LaCrane | 65 | Cannon City, MN |
| 1895 | WI | Peter Laclare | NA | Turtle Lake, WI |
| 1900 | US | Peter Leclaive | 84 | Almena, WI |
| 1905 | WI | Peter La Claire | 86 | Turtle Lake, WI |
| 1910 | US | Peter Laclair | 94 | Turtle Lake, WI |
| 1920 | US | Peter Leclair | 104 | Barron, WI |
It is kind of incredible to ponder all the potential problems with the census data . . .
They might not know the answer to something
English versus French
Spelling variations
Dit names
How someone asks a question can influence the response
They might lie to hide something or just because they don't think it is anyone's business
Not everyone could read or write back then
Handwriting problems
With each person involved there is a chance for more errors (remember playing telephone when we were little?) and several people are in the process: informant, enumerator, original indexer, microfilm quality, database conversion, etc.
Records get destroyed
Boundaries change
Names and ages were not taken so seriously in the past. No one had a plastic ID card that they carried around with them. Most people didn't even have a birth certificate!
It makes you wonder how this process works so well so much of the time, doesn't it?
The Basic Facts:
Peter LECLAIR HOULE
b. 27 Jun 1815, Quebec, Canada
d. 13 Oct 1922, Turtle Lake, Barron, WI
Angeline PARENTEAU
b. 6 May 1826, St. Michel, Yamaska, Quebec, Canada
d. 5 Feb 1911, Turtle Lake Baron Co WI
m. 20 Sep 1850, St. Michel, Sherbrooke, Quebec, Canada
You might also be interested in: