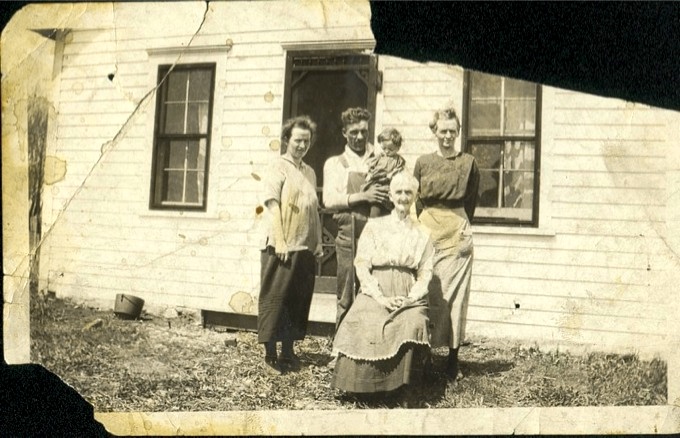 Okay a little description . . . this photograph has been through the wringer! It is bent and torn in several places. There are numerous spills, discolorations and even some thumbprints. There are two thumbtack holes. There are stains and specks and smudges. One corner is very mangled and three corners are missing and it looks like another part of it is going to break off at any moment!

So there it is in all it's pathetic glory! I'm so grateful that it has made it to me! It is pretty old, from about 1921 or 1922. (Margaret died the end of 1923, so it could not have been taken after that. ) It is a four-generations picture, so that is valuable and it has clearly been through a lot in the past 90 years.

Okay here's the full old-photograph analysis . . .
The coloring is quite yellow and the surface shiny.
The size of the original is 3.75 inches x 6 inches.
Written on the back: Mom & Dad Fjerstad, Fran, Atchie & Atchie's mom.
Fran looks to be about one or two years old, her mom was about 23, her dad was about 26, Atchie (May Williams was Claire's mom) was about 46 and Margaret (Claire's grandmother) was about 83 years old.
I'm not sure where it was taken. Fran was born in 1920 in Toronto, South Dakota and I know they moved around a lot between the towns on the border between South Dakota and Minnesota. So I'm not quite sure where they were at this exact moment. I'm guessing this picture was taken in front of the house where they lived because their clothes look pretty casual.
Does anyone else have any more information about this photo?
The Basic Facts:
Margaret (Emma) JONES WILLIAMS
b. 9 Jul 1838, Chester, England
d. 4 Dec 1923, Staples, Todd, MN
m. 31 Aug 1867, England
May (Atchie) (Mary E) WILLIAMS ATCHISON
b. 25 Dec 1875, Beaver Dam, Dodge, WI
d. 15 Dec 1971, Staples, Todd, MN (Mary Rondorf home)
m. 27 Oct 1897, Staples, Todd, MN
Claire (Clara) ATCHISON
b. 2 Sep 1898, Staples, Todd, MN
d. 30 Aug 1951, St. Paul, Ramsey, MN
& Peter Ole FJERSTAD
b. 2 Oct 1895, Amhurst, Fillmore, MN
d. 2 Aug 1974, Robbinsdale, Hennepin, MN
m. 1919, Hendricks, Lincoln, MN
Evelyn Frances FJERSTAD HOLMAN
b. 23 Jan 1920, Toronto, Deuel, SD
d. 17 May 2002, Brooklyn Center, Hennepin, MN
m. 16 Feb 1937, Milbank, Grant, SD
You might also be interested in: