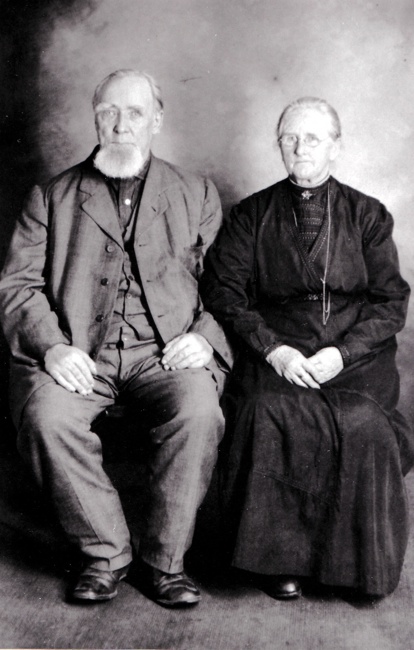 This is one of the oldest pictures I have, so I couldn't resist sharing it, even though I still have more work to do on this part of the family.

This photo comes from the pictures that my grandmother gathered for me and the note says it is from November 1914. He died the beginning of 1918 so that cannot be too far off. It is a 4×6 inch reprint. I'm not sure who had the original.

Their dress looks pretty formal to me. It looks like they got cleaned up, dressed up and went to the studio to get their portrait taken. I wonder what the occasion was?

Dena was married to Sam Bird before she married John Middendorp. Also, before she was married to either of them, she did have a child in 1870, who was raised by her parents. That tidbit comes from Marvin Iwerks. You should really check out his work – he did a nice job and it is available electronically:
*Iwwerks-Iwerks: A Family History (vol 1 from 1996)
*The Iwerks Family in America: A History and Genealogy (vol 2 from 1998)
The Basic Facts:
John MIDDENDORP
b. 12 Mar 1845, Naaldwijk, Netherlands
d. 9 Jan 1918, Clayton, Polk, WI
& Dena Ubben IWWERKS
b. 3 Nov 1847, Uttum, Ostfriesland
d. 7 May 1939, Clayton, Polk, WI
m. Feb 1878, Yankton, SD
You might also be interested in: