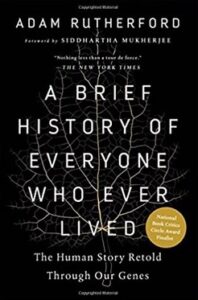 Well, this book isn't really brief and it isn't really about everyone, but it is interesting. It starts off great, but does go off on some tangents here and there. A few of my favorite highlights from the book:
1 – We all descend from royalty. Charlemagne is the ancestor of all Europeans alive today. However, we don't necessarily carry his DNA.
2 – Genetics is a lot more complicated than many of us learned in school with Mendel's peas.
Going back more than a few generations, it is a web not a tree.
People moved in all directions all the time.
Genes interact and there usually isn't just one gene for a trait.
Diseases often have several variations with different gene combinations.
3 – Race doesn't exist in genetics.
4 – There is a really great story of how they proved some bones dug up from a parking lot were from Richard III.
5 – The environment affects our DNA and we can pass these changes on to our offspring. In particular, farming has had a big impact on our genes.
Does that interest you? If so, this book might be for you. Get it here: A Brief History of Everyone Who Ever Lived: The Human Story Retold Through Our Genes by Adam Rutherford
One surprise, the author is very negative about genetic genealogy. It is good for people to be warned in this area since there are scams. However, he could have mentioned where there are good tests and how it can be useful, which is mainly to find cousins so that you can collaborate on your genealogy research. If you want to be an educated consumer, read: Which DNA Test is Best?