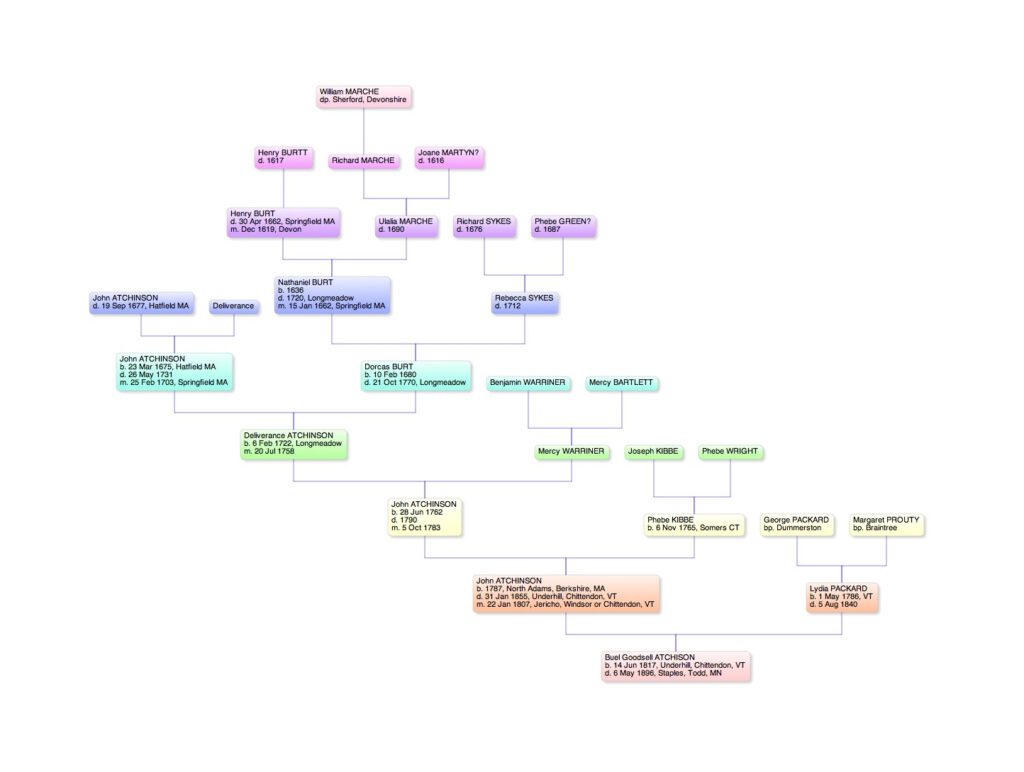 Wow. I never thought I would be able to trace my ancestors to colonial Massachusetts!
I have just been reading The Atchinson Book compiled & written by Court Atchinson. If you are an Atchinson descendant, you should really check it out. There is a lot of detail! So much he did it in three volumes! And it is available online:
Of course, I have not verified this all myself, but here are a few things I wanted to highlight . . .
The origin of the name is not known for sure, but one theory is that we are descendants of King Arthur! How fun is that!?

John & Deliverance Atchinson
Not much is known about them, but he was killed by Indians 19 Sep 1677 Hatfield MA. It is likely that she was a Puritan because of her name & those of her children. It is likely he had Scottish heritage because several descendants from different branches of the family heard that story and it was not a desirable thing to claim then. The majority of the Scots that were shipped here were criminals & political prisoners. It is likely that John was an indentured servant with a 6-8 year term. If so, it is surprising he was allowed to marry & if he was done with his term, why didn't he request land? A mystery we may never get solved.

The Burts
Henry Burt was a prosperous clothier from Harberton Devonshire who died in 1617. His son Henry became prominent in Springfield MA. His wife, Ulalia, was nearly buried, but showed signs of life at her funeral. Then she went on to have 19 children! As Court puts it, "Two daughters had close encounters with witchcraft." And there were some famous descendants as well: President Grover Cleveland, Ethan Allan & Oliver Wendell Holmes.

John & Dorcas Burt Atchinson
John was born 23 Mar 1675 or 1676 Hatfield MA. In 1702, he requested land in Longmeadow MA. Dorcas was born 10 Feb 1680. John & Dorcas married 25 Feb 1703 Springfield MA. John was active with community service for 18 years in Springfield MA. Then went to Brimfield, which was later called Monson. He died 26 May 1731 or 1732 and she returned to Longmeadow MA. She died 21 Oct 1770. (From what we guess about his father, it looks like the Atchinsons went from "criminal" to prominence in one generation!)

Deliverance & Mercy Warriner Atchinson
Yes, a boy named Deliverance was born 6 Feb 1722 or 1723 Longmeadow MA. Deliverance & Mercy married 20 Jul 1758. Her parents were Benjamin Warriner & Mercy Bartlett of Wilbraham MA.

John & Phebe Kibbe Atchinson
He was born 28 Jun 1762. He probably served in the Revolutionary War, but there are 2 of them and not enough information to be sure. John & Phebe married 5 Oct 1783. She had been born 6 Nov 1765 in Somers CT to Joseph & Phebe Wright Kibbe. He died in 1790 & she remarried.

John & Lydia Packard Atchinson
He was born 1787. John & Lydia married 22 Jan 1807 in Jericho VT. Lydia was born 1 May 1786 to George & Margaret Prouty Packard. John enlisted in the War of 1812 25 Sep 1813. He served 1 month 23 days. Lydia died 5 Aug 1840 Underhill VT.
If you want to see more on the younger generations, see this post.

You might also be interested in: