My clever and persistent mother recently decided to tackle the death of Lars Fjerstad. There was a family story about how he was working at a neighbor's house and they hadn't seen smoke over there in a couple days and so they went over and he was dead. We think maybe he died in Minnesota, but was buried in South Dakota? And we haven't been able to find a death certificate.
She insists on documentation. She wants proof, so she conducted some extensive research. She looked for proof of death. She looked for proof of life. Lars and Anna moved around a bit, so she looked in several counties on both sides of the border between Minnesota and South Dakota. She explored civil and religious records. Some she had to go through page by page. Some were in Norwegian. (No, she doesn't know Norwegian, but you can follow the pattern of church records in a foreign language if you put your mind to it.)
Also complicating matters, there is an error in the South Dakota Cemetery Index. The entry for Lasse J. Fjerestad has the death date as 1614. Oops. And in case you were thinking there was another Lasse J. Fjerestad, no, the index only goes back to 1831. 1614 is definitely a typo.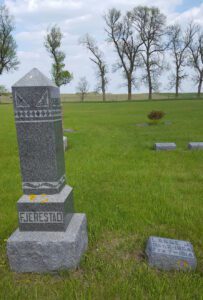 My clever and persistent mother had just about given up. She decided she would check one last time. And voila! A recently posted image popped up on FindaGrave.com! Thank you Sherbie58 for taking these pictures! This is our guy:
Lasse J. "Louis" Fjerestad
2 Oct 1864 – 7 Feb 1914
Sterling Lutheran Cemetery
Volga, Brookings County, South Dakota
Also interesting, there are two other Fjerestads in the Sterling cemetery. Two infants that appear to be in the same grave: Henry and Esther. Henry 1901-1902 was Lars' son. But Esther 1895-1896 is another mystery to solve! Who did she belong to?
Lessons Learned
If you do a search, you find a few family trees that have a Lars Fjerstad that was born in 1864 and died in 1918. These are all wrong! Somehow we have copied an error from each other. These are two separate men! There was a Lars Fjeseth 1844-1918 and a Lars Fjerstad 1864-1914.
Lars Fjeseth 1844-1918 was a prominent man in the area. Those of us who descend from Lars Fjerstad 1864-1914 need to stop claiming him as our ancestor.
P.S. If you really are descended from Lars I. Fjeseth 1844-1918, his grave is over here in Singsaas Cemetery in Hendricks, Brookings County, South Dakota.