A lot of the entries in parish registers follow pretty standard patterns and you can pick up what you need without having studied French for years. Also, quite a few of the words are very similar: septembre, marriage, baptise, etc.
For me, the hardest thing is reading the faint handwriting, so I often will take the image into a program like Pixelmator and zoom in and adjust the levels so it is easier to read.
(I should probably mention that I actually did study French for years and still consult my French-English Dictionary once in awhile. I first wrote these tips to help my mother who has not studied French but wanted to slog through many parish registers.)
The General Pattern of Important Information for Birth (Naissance):
Date
Baptised [name of child]
Born from the legitimate marriage of [names of parents]
Sometimes you will see occupation
Godfather and godmother
The hardest thing is that they spelled out the dates. You need a translation helper for the months, so try this: http://www.girouard.org/cgi-bin/page.pl?file=months&n=6
And numbers are harder because there is this form: http://french.about.com/od/vocabulary/ss/numbers.htm
And then you also see them like "deuxieme" which takes the number "2" and makes it "second."
They wrote long numbers out so 1844 = mil huit cent quarante quatre or broken down:
mil = 1000
huit cent = 800
quarante = 40
quatre = 4
If you are unsure about boy v. girl, check the "born of a legitimate marriage" phrase – the word for born is spelled differently for boys and girls. Boys don't have the extra "e" eg. Jean né v. Angele née.
And also watch for né hier v. né aujourd'hui (born yesterday v. today).

In this example from Yamaska (parish St. Michel):
6 May 1826
Baptised Angele
Born yesterday from the legitimate marriage of Regis Parenteau, farmer (agriculteur du lien = farmer of bond?), & Marguerite Lepire
Godparents: Paul Feraux or Teraux? (that one is hard to read!) & Marie Lambert
The General Pattern of Important Information for Marriage:
Date
Marriage of [name of groom], son of [names of parents] on the one part
And [name of bride], daughter of [names of parents] on the other part
Witnesses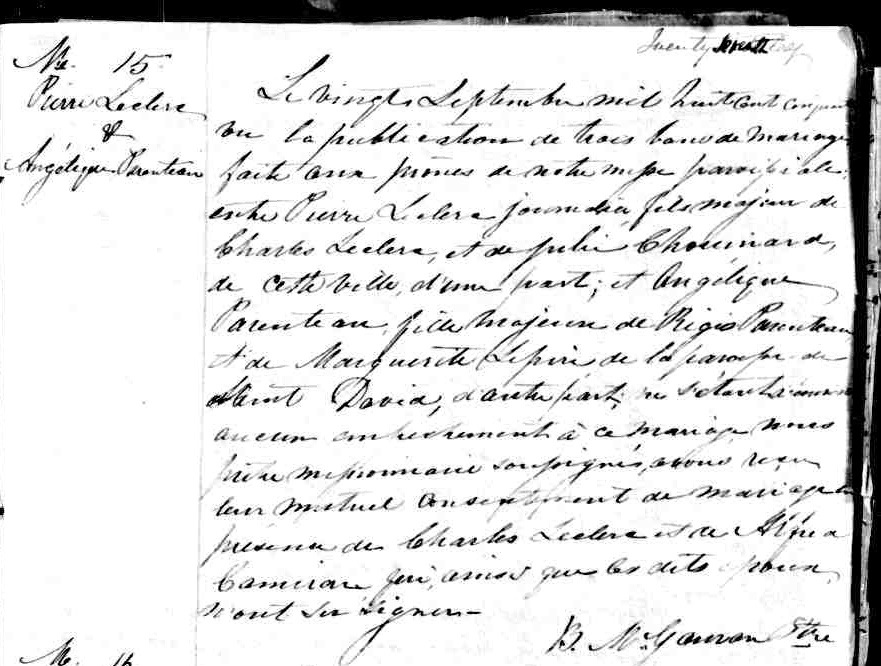 So in this example from Sherbrooke (Cathedrale St. Michel):
20 Sep 1850
Peter Leclerc son of Charles Leclerc & Julie Chouinard
Angelique Parenteau daughter of Regis Parenteau & Marguerite Lepire from the parish of St. David
Witnesses: Charles Leclerc & Alprea Camiere
Also, watch for veuf and veuve (widower and widow) – that tells you who the previous spouse was.
And you will see a lot of "en cette ville" which is "in this town" and "en cette paroisse" which is "in this parish."
P.S. It is always exciting to find a birth record for an ancestor and this one is from 1826 Quebec! However, this one was also disappointing. If you recall, the whole reason I started on this 20-year-long genealogical journey was that my grandma told me that her great-grandfather, Peter LeClair, was a fur trapper born in Canada and that he had married an Indian maiden. This woman, Angele, was supposed to be the Indian. Looks rather French and Catholic, doesn't she?
The Basic Facts:
Peter LECLAIR HOULE
b. 27 Jun 1815, Quebec, Canada
d. 13 Oct 1922, Turtle Lake, Barron, WI
Angeline PARENTEAU
b. 6 May 1826, St. Michel, Yamaska, Quebec, Canada
d. 5 Feb 1911, Turtle Lake Baron Co WI
m. 20 Sep 1850, St. Michel, Sherbrooke, Quebec, Canada
You might also be interested in: