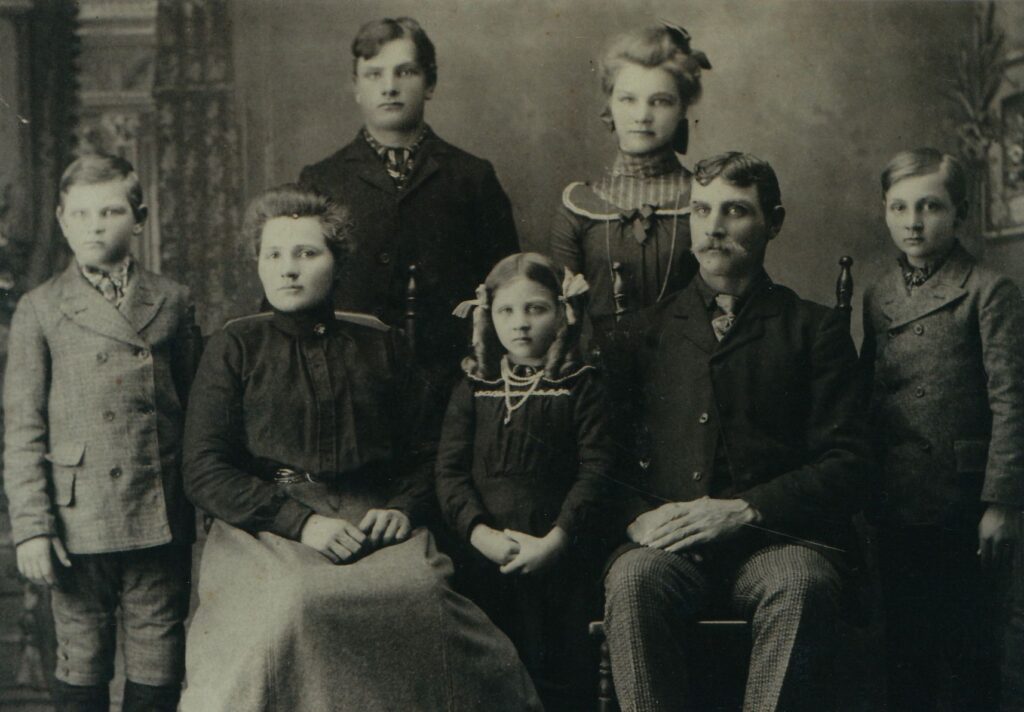 Don't you love this old photograph!? This is one of my favorites. They look so well-scrubbed and dressed up! And it was over a hundred years ago! I am guessing this photo was taken in turn of the century Minnesota – maybe 1902?

I vaguely remember my great-grandfather Fay. I was only 2 when he died. It is hard to imagine that old man used to be that sweet-looking boy on the right in the photo.
It was fun to learn about this family in early frontier Iowa.
Some more Tidbits:
(This isn't all verified, these notes are from family stories and obits.)
George was a pioneer in Kossuth County IA. He was quoted as saying he thought he broke more prairie in Kossuth than any other living man.
He flew through the air with a steer in the cyclone of 1894. Buildings were destroyed. They had to buy another farm and rebuild. The family was scattered among various friends and family until the new house was complete. He traded his land for "160 unproven" in the Red River valley, then decided it was too far to move so rented it out. Bought 160 NW of Swea City IA in 1899. Some family came and offered lots of money, so they sold that farm.
They moved among several farms in Iowa and then to Ortonville, MN in 1901. They were pretty prosperous, with lots of buildings and several horse teams. In 1914, George and Nellie moved with Zela, Ruth, and Earl to Roundup, Montana to a large homestead known as Devil's Basin.
George was visiting brother Zina in the hospital and then died of appendicitis or obstruction of the bowels or on his death certificate it says toxemia following thrombosis.
Not a lot is known about George's father Charles and none of us seem to be able to find his parents. He was a cabinet and coffin maker. It says he's a farmer from Jamaica [VT] on Fred's birth certificate. Known as a Green Mountain boy. Charles moved to "Indian Country" (Kossouth County IA, north of Algona) in 1866 in a covered wagon. He settled on a homestead on Plum Creek and went to Fort Dodge, 40 miles away, for groceries and supplies (with a handsled in winter).
Thanks to Marlin Albert McGaughey and Dorothy Lee Swanberg for putting together the binder on the Holman-Benschoter Family in 1996 and also for sharing photos with me. That was really fun and helpful back when I was just starting on this genealogical journey.
The Basic Facts:
George Allen HOLMAN
b. 7 Sep 1863, Rockford, Winnebago, Illinois
d. 17 Nov 1923, Algona, Kossuth, IA
Nellie BENSCHOTER
b. 5 May 1867, Algona, Kossuth, IA
d. 22 Nov 1944, Park Rapids, Hubbard, MN
m. 25 Oct 1885, Portland, Kossuth, IA

And George's Parents:
Charles Thomas HOLMAN
b. 21 Aug 1830, Windham, VT
d. 30 Sep 1881, Algona, Plumcreek, IA
Abigail (Abbott) HARRINGTON
b. 26 Jul 1831, Rutland, Windham, VT
d. 6 Feb 1926, Algona, Plumcreek, IA
m. 23 Feb 1854

You might also be interested in: