Ah, the McNalls. I thought I didn't know much about them and then sources just kept crawling out of the woodwork! OMG, it felt like I would never finish with this part of the family.
Here is where we are with William McNall and his ancestors (his wife Sibbell Seaward and her ancestors are over here) . . .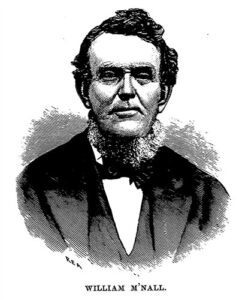 Almira was my great-great-great-grandmother. William and Sibbel were her parents. William was handy and according to the profile of William McNall from the Cattaraugus County Historical Advisory Committee, he "became a farmer, carpenter, joiner, mason, wheelwright, millwright, and blacksmith depending on what was needed."  They also said he was "public-spirited, charitable and benevolent as a husband and father."
John and Meleson were William's parents. We only know a little bit about them. Then this part of the family gets a bit messy. There was an early settler of Union, CT, a William McNall with a son Arthur, that perhaps are our ancestors, but there is not enough evidence yet to know for sure. There is also a good deal of speculation and debate here about the early McNalls, but no one seems to have enough sources to say for sure. And if that wasn't enough confusion, there is also a bit of a muddle that perhaps some McNalls were confused with some McNitts. Does Arthur McNitt = Arthur McNall or were they separate people?
Here is what we can be pretty confident about since we have some sources . . .
Timeline
1780 – John born (grave)
23 Feb 1806 – William born Stafford Springs CT (Adams, Ellis)
1817 – John settled at Cadiz NY, kept a hotel, had the first sawmill there (Adams, Ellis)
17 Mar 1829 – William & Sibbel married (Ellis)
19 Jan 1846 – John died in NY (grave)
1850 – William & Sibbel & 8 kids farming in Franklinville, Cattaraugus, NY, Mellison with them (census)
1855 – William & Sibbel & 7 kids in Franklinville, Cattaraugus, NY (census)
1860 – William & Sibbel & 4 kids in Franklinville, Cattaraugus, NY, Almira & 2 kids with them (census)
1870 – William & Sibbel still in Franklinville, Cattaraugus, NY, he's a carpenter (census)
20 Dec 1870 – William died (Adams, Ellis)
 
The Basic Facts:
John McNALL
b. 1780
d.19 Jan 1846, Cattaraugus NY
& Meleson WASHBURN
William McNALL
b. 23 Feb 1806, Stafford Springs CT
d. 20 Dec 1870,Franklinville, Cattaraugus, NY
& Sibbel SEAWARD
b. 15 Apr 1811, Decatur NY
d. 2 Apr 1891, Franklinville, Cattaraugus, NY
m. 17 Mar 1829, Franklinville, Cattaraugus, NY
 
Sources