I found myself listening to West of the Moon by Margi Preus on a recent road trip and I really liked it. It is a good story and it won a Minnesota Book Award in 2015. She draws on Norwegian folk tales, so I felt I was getting in touch with my Norwegian heritage.
While this book is fiction, she was inspired to write it by her great-great-grandmother's diary, where she describes coming to America in 1851. In particular, there was a girl alone on the ship in the diary which inspired Preus to write this story.
I have always been interested in emmigrant stories. What is that like to leave everything you know and endure a difficult journey in the hopes of making a better life somewhere new?
The author did a bunch of historical research and yet the book still has a timeless, fairy-tale quality. It is not just a children's book either! There are some good philosophical questions in there as well.
Wait a minute, didn't my Norwegian great-great-grandmother come to America as well? Did she come alone like the girl who inspired the story? Was she hoping to find her father like the girl in the story?

Here is what we know so far . . .

We find my great-great-grandmother, Anna, in an emigration database leaving Bergen, Norway 8 Apr 1885. I have not yet been able to document her complete journey through ships logs or border crossings. She has a lot of name variations.

Her father was already in America, but we don't know that they kept in touch. She had been born out of wedlock, so she probably was looking forward to a fresh start. Her brother Amond emigrated later in 1905.

She got married to Lars Fjerstad in Minnesota on 22 Nov 1889. He had emigrated the year after Anna. I imagine they met here since they were from different Norwegian towns. They went on to have six children and 22 grandchildren.

They did have relatives around from Lars' side of the family. His three siblings also came to America in 1892 and 1893. His mother came in 1893 after her husband died and we see her living with Lars and Anna at the time of the 1895 census. Brother Ole was living with Lars and Anna at the time of the 1900 census.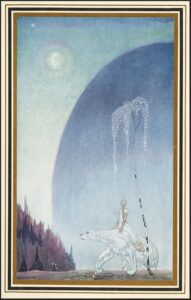 Additional Resources:
You might also be interested in: